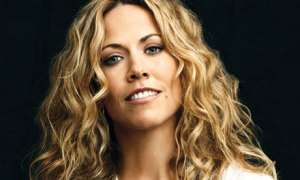 @Sage Gateshead, October 28 2014
Her record company may have marketed Sheryl Crow's current album release Feels Like Home as her first 'country' album but on the evidence of this sold out gig in Sage's Hall 1, she can still really rock the joint.
Perhaps the sparkles on her boots were, indeed, rhinestones but the rest of her outfit – tight jeans and a sleveless top – had a distinct rock chick vibe about it. It's a style we've come to know and love. 
Backed by a six-strong band and flanked by a couple of beanpole guitarists in the shape of longtime collaborator Peter Stroud and former Black Crowes picker Audley Freed, the diminutive Ms Crow opened with set with Maybe Angels which set the tone for what was an impressive two-hour, 20-song trip through her extensive back catalogue.
Her breakthrough hit All I Wanna Do made an early appearance – it's hard to believe it was 20 years ago that that it was a worldwide smash – though the overly polite Hall 1 crowd hadn't quite get into the singalong spirit at this point. As always at this venue the sound was impeccable but the reverential atmosphere created by the patrons didn't really help with the rock gig dynamics.
Ms Crow's always been musically adept and possesses a wonderfully pure set of pipes but her stagecraft has grown considerably since she first played the region back in the 90s. 'So are we in Gateshead or Newcastle?' she asked early on. A rather incoherent response from the audience resulted in her responding with, 'So it's Gatescastle…or Newhead'.
The gig really took off when she divested herself of her acoustic guitar and strapped on a Telecaster to play Real Gone – a song that really rocks and that rather amazingly first appeared on the soundtrack of the Disney/Pixar movie Cars. "That's when my son realised what mommie does and what pays for all the Lego," was Sheryl's quip as she introduced the song. With three driving electric guitars on the go, and with Sheryl also adding a harmonica solo, it provided one of high points of the night.
The song about her short-lived relationship with Eric Clapton, My Favorite Mistake, followed, with Sheryl somehow managing to melt effortlessly into the backline to play a Fender Rhodes electric piano during an extended outro which let the music do the talking.
Home was sublime, with Freed providing some achingly beautiful pedal steel playing. The song's understated mood was augmented by a slowly rotating swarm of mini spotlights. Sheryl's version of The First Cut Is The Deepest drew one of the louder cheers of the night, while Callin' Me When I'm Lonely and the up-tempo Shotgun ably represented her current album.
A well-paced set climaxed with a trio of hits comprising of If It Makes You Happy, Soak Up The Sun (for which Sheryl switched to playing bass) and Everyday Is A Winding Road.
The encore opened with a moving rendition of Run Baby Run and concluded with a storming version of Zeppelin's Rock And Roll, with Sheryl belting out the lyrics and sounding not unlike a youthful Robert Plant – even inviting the audience to sing the 'lonely, lonely, lonely, lonely time' section. Now I don't think that you could call that country music – by any stretch of the imagination!
Martyn P Jackson