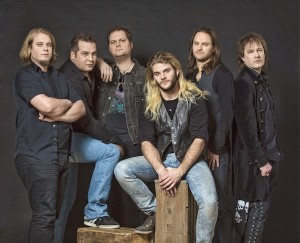 It's that time of the week again when we round up the very best in new rock and metal.
And there's some seriously heavy stuff courtesy of Portrait, Patria and Miasmal.
Death get a well deserved Leprosy reissue and we check out Holy Moses and Mekong Delta.
For those of a more melodic persuasion there's new music from SunStrike (pictured), Alien and Free Spirit.
And we check out the latest offering from country rocker Kenny Wayne Shepherd.
Every Sunday we reveal the RUSHONROCK RECORD OF THE WEEK.
And we round up the very BEST OF THE REST. 
RUSHONROCK RECORD OF THE WEEK

Free Spirit – All The Shades Of Darkened Light (Self-Released)
Genre: Hair Metal/AOR/Classic Rock
It's five years since Free Spirit unleashed their fantastic debut – a record that ran away with RUSHONROCK's Album Of The Year prize and left us gagging for more.
And just as we were beginning to fear the melody-soaked Finns had fallen off the rock radar, All The Shades Of Darkened Light dropped on the reviews desk.
In a word it's brilliant. And just like it's chorus-laden predecessor it's going to take something very special to beat this belter of a record where those partial to some late 80s pop rock sheen are concerned.
Channeling their inner Leppard, Sami Alho and co. have cracked it. Again. Layered vocals, a pin-sharp production and even a song called Hysteria – it's an original tribute rather than a cover of the iconic 1987 track – are unashamedly in thrall of Sheffield's finest. Whereas Pale Sister Of Light had more in common with White Lion, its follow-up is a glorious amalgam of Leppard, Whitesnake and Europe.
Opener Nights Of Paradise is the perfect soft rock anthem and Burning Love will leave fans of David Coverdale and Joey Tempest weak at the knees. The new Reckless Love? Or the new-improved Reckless Love… Simon Rushworth
RUSHONROCK RATED: 10/10 Light Fantastic
BEST OF THE REST

Portrait – Crossroads (Metal Blade)
Genre: Metal
Fist pumping, traditional metal which owes a big debt to Mercyful Fate, Dio and Maiden. Music clad in denim, leather and precious little else. Oh, and a logo straight from 1983. Yep, Portrait are unashamed, old school headbangers and Crossroads, their third album, reeks of rock club dance floors and sweaty, basement venues where the Jagermeister's a-flowing.
Heard it all before? Yes. And unlike their young Swedish brethren, In Solitude, this quintet aren't too keen on evolution. Is that a bad thing? On Crossroads' weaker tracks, such as the underwhelming (and rather cheesy) Our Roads Must Never Cross, certainly. But on high-energy romps like We Are Not Alone and Ageless Rites their enthusiasm and passion – plus some razor sharp riffs – make for an intoxicating brew.
It might not be a classic – or hold a candle to the albums which inspired it – but Crossroads will put a smile on your face nonetheless. Now where did I put that sleeveless denim jacket…? Richard Holmes
RUSHONROCK RATED: 6/10 Art Attack

Death – Leprosy: 2-disc reissue/live album (Relapse)
Genre: Death Metal
Genre defining. Inspirational. Legendary. Death might have ended with the tragic passing of founder Chuck Schuldiner in 2001, but the band lives on through their colossal influence on the entire extreme metal scene.
Relapse has seen fit to re-issue Leprosy, the Florida act's mighty second album, with Alan Douches on remastering duties, and he's done a damn fine job.
However, it's still the strength of classic DM stormers like Pull The Plug, Open Casket and Primitive Ways which make this release so special… and an essential component of any self-respecting metaller's collection.
The US label has also thrown in a disc of rehearsal material and Leprosy demos, which will appeal to completists, plus you can get your teeth into more than 40 minutes of previously unreleased live material, should you invest in the deluxe edition.
However, it's the sheer quality of Leprosy which really stands out here, as well as its status as an evolutionary leap for metal. Few bands have ever come close to matching it… apart from Death themselves. RH
RUSHONROCK RATED: 9/10 To The Death

Patria – Individualism (Indie Recordings)
Genre: Black Metal
Violent, spiteful, raging black metal is what you'll find on Patria's new opus  – along with some truly impressive song writing that's happy to embrace melody as much as malice.
The Brazilians are a prolific bunch, with five full lengths and a clutch of EPs and splits under their belts since forming in 2008, and they've obviously mastered their craft, if Individualism is anything to go by.
It's not the most ground breaking BM release you'll encounter, but the album possessed a dark heart which imbues songs like Far Beyond The Scorn and Catharsis with a primal, venomous spirit.
Guitarists Mantus and Igniis Inferniis spit out some great riffs too… and the whole affair is powered by the inhuman drumming of Abyssius, who shows both restraint and unbridled power when it's called upon.
They've certainly put the hard work in during their short career – and with Individualism now unleashed, it's time for Patria to reap the rewards. RH
RUSHONROCK RATED: 7.5/10 Brazilian Flair

Miasmal – Cursed Redeemer (Century Media)
Genre: Death Metal
There are plenty of North American acts currently mining the Swedish death and crust scenes for inspiration – some of them, such as Trap Them and Black Breath, are very good indeed.
Miasmal, though, have an arguably more authentic sound  than many of those bands – hailing from Gothenburg, they certainly know a thing or two about fusing Entombed's gnarly DM with cider spitting d-beat a la Disfear… and writing raw, raucous tunes to boot.
Until The Last is a fine slice of Swedish hardcore (albeit with much heavier guitars) while Call Of The Revenant shows the hand of Autopsy doing its bloody work, and Excelsior sees the band just rocking out like their lives depended on it.
It all makes for an enjoyable ride – and with plenty of tempo changes and wild soloing to spice things up, Cursed Redeemer keeps your attention throughout. Just make sure you turn it up to 11. RH
RUSHONROCK RATED: 7.5/10 Redemption Songs

SunStrike – Rock Your World (AOR Heaven)
Genre: Melodic Rock/AOR
Sweden has the copyright on classy melodic rock right now and if Europe and H.E.A.T. are the genre leaders then this delicious debut from SunStrike proves the pretenders are still lining up in their droves.
Rock Your World doesn't sound like a first album – the self-assured, instantly endearing songwriting and classy production give the impression of a far more experienced act. Perhaps it's the expert Erik Mårtensson (Eclipse, W.E.T) mix that makes the difference.
The title track and Rock It Out are very much mid-80s Europe while Scream And Shout could be plucked from Yngwie Malmsteen's magnificent Odyssey as frontman Christian Hedgren goes all Joe Lynn Turner on his band mates.
SunStrike know their melodic rock onions but don't overdo the cheese: Rock Your World is a genuine treat for those with an appetite for retro 80s goodness. SR
RUSHONROCK RATED: 9/10 First Strike
Genre: Melodic Rock
Eternity offers ample proof that Alien deserve their reputation as one of the premier melodic rock acts emerging from Scandinavia in the late 80s. Always more AOR-focused than fellow countrymen Europe and yet equally adept at penning a hook-laden tune, this heady mix of Journey and Dare doesn't disappoint.
1988's self-titled debut remains a classic and while there are elements of that breakthrough album on Eternity this is a faster-paced, more focused record. Rekindling their songwriting relationship with LA. co-writers Pam Barlow and Janet Morrison Minto, it would be easy for Alien to rely on the past – in fact this vibrant offering fires them headfirst into the future.
Prominent keys and multi-range vocals peak on the bullish Unbroken but Alien are at their best on breakout ballads I Believe and I'm A Fighter (imagine Bad English at their best). SR
RUSHONROCK RATED: 8/10 Alien Invasion

The Kenny Wayne Shepherd Band – Goin' Home (Mascot)
Genre: Blues Rock
With five Grammy nominations under his belt and a few thousand record sales to boot there's no question Kenny Wayne Shepherd is a serious contender in 2014. Problem is, he's still very much an unknown quantity on this side of the Pond.
Fresh from last year's stint with 'supergroup' The Rides, the question is: will Goin' Home see UK fans finally flocking to Shepherd?
The fact that this album focuses on reworked blues classics, rather than original material, might work in the main man's favour and his versions of Everything Gonna Be Alright and You Can't Judge A Book By Its Cover are impressive enough.
Roping in guests of the calibre of Joe Walsh, Warren Haynes and the Rebirth Brass Band is another canny move as Shepherd seeks to widen his appeal.
But Goin' Home's bizarre undoing is that it doesn't actually do justice to one of blues rock's rising stars. Shepherd should place more faith in his own music and make a concerted play for greater acclaim with his next record of original material: in his case the originals are the best. SR
RUSHONROCK RATED: 6/10 Home Banker

Mekong Delta – In A Mirror Darkly (SPV/Steamhammer)
Genre: Thrash/Progressive Metal
Releasing their tenth studio album, the German thrash metallers have recorded the real follow up to 2010's Wanderer On The Edge Of Time.
While 2010's Intersections was met with critical acclaim, it was perhaps not the true follow on that fans expected. This well structured album starts unexpectedly with an instrumental piano intro, which initially suggests the ever-changing line up has started to have an effect on Ralph Hubert's musical direction.
In fact it's not until the album's third track, The Armageddon Machine, that LaMar's vocals are finally unleashed. Despite appearing heavily on patches of the album, there are still lengthy instrumental periods and with a number of tracks hitting the six minute plus mark, this makes for a long listen.
However, with such technical guitar solos and drum patterns, the length of the tracks are likely to go down a treat with musicians and will make for an excellent live album. Adam Keys
RUSHONROCK RATED: 7/10 Delta Force

Holy Moses – Redefined Mayhem (SPV/Steamhammer)
Genre: Thrash Metal
After 34 years and 11 studio albums, German thrash metal legends Holy Moses return with their first album in six years. Six years is a long time in music, a career for many, but for this female fronted, five piece it has just served to brew up plenty of anger which has been unleashed in this enthrallingly brutal come back.
The appropriately named Redefined Mayhem highlights the continuous evolution of a band who refuse to dwell on the past, instead focusing solely on moving forward and forging themselves as a real force in contemporary thrash.
From the start the band waste no time hanging around, throwing themselves forward with the boundless energy, bringing a wall of aggression and finely tuned melodies.
With such brutality and aggression, chaos tends to go hand in hand, and for the most of this record, the chaos is controlled, except for Liars, when the track tends to get away from the band with Sabina Classen's vocal wavering slightly from their usual disciplined self. AK
RUSHONROCK RATED: 8/10 Utter Mayhem