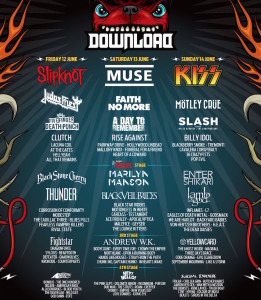 It's that time of the year when we turn the spotlight on the bands you simply can't afford to miss at this year's typically eclectic 2015 Download Festival.
As usual RUSHONROCK will be on site – come rain or shine – for the full three days bringing you the very best news and reviews from the UK's biggest and best rock and metal fest.
And to get you in the mood we'll be pointing you in the direction of the cream of the crop – with contentious US glam metallers Black Veil Brides next up. 
Band: BLACK VEIL BRIDES
When: Saturday June 13 19.40-20.25
Where: Zippo Encore Stage
Who: Divisive American pretty boys who were booed and bottled last time out at Download during a tumultuous main stage set. The Brides are regular Kerrang! cover stars and appeal to thousands of disaffected teenagers desperately seeking a Motley Crue they can call their own. Frontman Andy Biersack has never been backward in going forward and is adored and derided in equal measure.
Why: Make no mistake this is a huge test for a band that talks the talk and likes to think it walks the walk. If the band's last time out at Castle Donington is a measure of things to come this weekend then expect as many jeers and cheers – and a few full bottles of anything but water heading straight to the centre of the stage. This will be a memorable triumph or a painful disaster.
Listen out for: Fallen Angels – and sing along with all the teenage girls.
For fans of: Motley Crue, Marilyn Manson, Five Seconds Of Summer
What we said: 'It's (very) easy, (increasingly) popular and (shamefully) predictable to poke fun at the Black Veil Brides. They lack originality, experience, class and guile but there's something very special about Hollywood's glam metal boy band. For starters frontman Andy Biersack appears to be on a mission to rile and be reviled and baring his backside to Download's main stage throng was either the action of an utter buffoon or a stroke of publicity stunt genius.' From 2012 Download Festival live show.