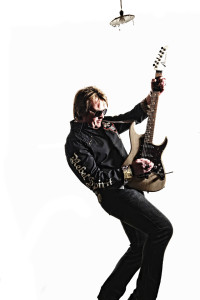 It's that time of the week again when we check out the very best in new rock and metal.
And in the penultimate round-up of 2014 we turn the focus on Brit newbies Western Sand and melodic rockers Bailey (pictured).
At the heavier end of the scale we check out the latest release from Ohio's Enabler.
And we run the rule over Death Wolf and Cretin.
Every Sunday we reveal the RUSHONROCK RECORD OF THE WEEK. And we round up the very BEST OF THE REST.
RUSHONROCK RECORD OF THE WEEK
Enabler  – La Fin Absolue Du Monde (Century Media)
Genre: Metallic Hardcore
Metallic hardcore outfit Enabler burst onto the scene in some style with 2012's All Hail The Void – but  La Fin Absolue Du Monde, their Century Media debut, may see the Ohio boys soar to greater heights.
For the trio's second full length is more direct  – and ultimately more accessible –  than its crust inflected predecessor: opener Close My Eyes and Balance Of Terror are prime examples of the outfit's tighter, more focused approach to songwriting.
However that's not to say the album doesn't chuck up its fair share of bile. The violent intensity of the band's earlier work makes its presence felt on songs like Prey and the thrashy Neglect, while I've Got A Bad Feeling About This reeks of Brit anarcho punks Conflict – especially when it comes to the vocal phrasing.
La Fin Absolue Du Monde, then, is an album which should both turn and split heads – and a sign that Enabler could evolve into something very special indeed. Richard Holmes
RUSHONROCK RATED: 8/10 World Class
BEST OF THE REST
Death Wolf – III: Östergötland (Century Media)
Genre: Metal/Punk
It's no surprise to learn that Death Wolf started out as a Misfits/Samhain tribute act (known as Devil's Whorehouse), given the sense of danger and horror which pervades III: Östergötland. However, there's a hell of a lot more to the Swedes than mere Danzig-worship, as their third album proves.
Yes, the slow burning, creepy title track and Stegeborg wouldn't be out of place on a later Danzig record, but the quartet are actually at their best when they turn up the heat and embrace both black metal and foot to the floor hardcore punk. Sea Wolf, Wall Of Shields and Black Sunlight are among the album's finest tracks, and they all benefit from a hard driving, fast pace – and plenty of furious energy. Thorntree – another standout tune –  reeks of frosty, Nordic BM.
What lets III down a touch is that Death Wolf's slower efforts, such as Today King, Tomorrow Dead, tend to drag, and stop the opus reaching its full potential.
That said, if you need some more darkness in your life to counteract all of those gaudy Christmas lights, you could do a worse than giving this a spin…RH
RUSHONROCK RATED: 6.5/10 The Howling
Cretin – Stranger (Relapse)
Genre: Grindcore/Death Metal
California's Cretin have been away for eight years, but they haven't let that hiatus dull their raging deathgrind assault one bit.
Harking back to the early days of grindcore and death metal (perfectly understandable, given that Cretin formed back in 1992) Stranger doesn't stray too far away from the Napalm Death/Repulsion/Autopsy blueprint, and boasts plenty of punk spirit among its 14 hyperspeed ditties.
It's raw, it's unrelenting and in tracks like We Live In A Cave, boasts the kind of spine twisting, mosh-igniting time changes that make grind so exciting. Plus, it's brilliantly executed by the quartet: Col Jones' drum kit would have probably needed a month in intensive care after receiving such a battering, while Marissa Martinez leads the charge with a vocal performance which will tear your face off.
It's not ground breaking, it's certainly one dimensional (apart from the odd metallic solo) but Stranger is a whole load of fun. Welcome back Cretin. RH
RUSHONROCK RATED: 7.5/10 Slaves To The Grind
Western Sand – Cut You Down To Size EP (Self-Released)
Genre: Hard Rock
Currently opening up for Michael Schenker across the UK, Western Sand are four homegrown, hairy rockers with confidence to burn and blues-soaked riffs that demand attention.
The band's second EP oozes potential: standout track Black Water Resolution is awash with gritty, ballsy, Black Stone Cherry-inspired goodness and the groove-laden Doin Me Wrong is delightfully dark with its foreboding refrain.
Cut You Down To Size allows frontman Tyler Hains to showcase his full, gravel-toned range and an accomplished EP is brought to an epic conclusion by the countrified, Whisky-soaked Carry Me Home.
A band standing on the brink of the big time? Believe it. Simon Rushworth
RUSHONROCK RATED: 8/10 Sand Storm
Bailey – Long Way Down (Frontiers)
Genre: Melodic Rock
Three Lions frontman Nigel Bailey isn't messing about on Long Way Down. Using his own name, his huge talent and his wealth of experience, the singer songwriter has laid his cards on the table and produced an album straight from the heart.
Polished yet passionate, melodic and meaningful it comfortably manages to exceed expectations.
There's no mid-set slide, no disappointing limp towards an unsatisfactory denouement and no shortage of singalong anthems.
From start to finish Long Way Down is nothing less than uplifting with the Journey-esque opener Feed The Flames, the ballsy Bad Reputation and terrific AOR-fuelled Ticket To Yesterday classic Bailey. SR
RUSHONROCK RATED: 9/10 Cream Of Bailey