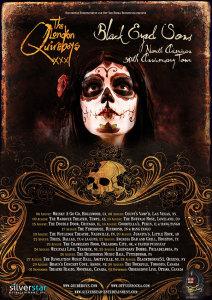 UK rock n roll heroes the Quireboys are reminding North American audiences just what they've been missing this past 20 years as the band cross the continent in style.
RUSHONROCK's guide to the tour of the summer is none other than guitarist Paul Guerin and his top tales are keeping fans entertained on both sides of the Pond.
As one fan pointed out…it's just like being there! Enjoy more all next week. 
Sitting in Oklahoma airport I had a funny flashback: Joe Elliott is the king of the pop quiz and its nigh on impossible to catch him out. But I really thought I was gonna get him with this little gem…
Lee Marvin sang a song call Wandering Star from the musical Oklahoma (are you seeing my tenuous link here) and the B side was also from the same musical. But it was sung by a different artist!
Well, I thought I've got him here. So I hit him with the question and…'Bam' he came back with Clint Eastwood and 'I Talk To The Trees'. How the f**k did he know that?!! I admit defeat L
The flight to Newark should have been an easy three-and-a-half hour jaunt if I hadn't been sat next to the Jolly Green Giant whose in-flight sleep and comfort clearly outweighed mine. He wriggled, huffed, puffed, snored and finally squashed me into submission whilst the stewardesses were trying to sell me an overpriced scabby breakfast. Good old United Airlines. 
Into Newark and onto the new tour bus. Hi ho, let's go. We were heading to a town called Teaneck so up and onto the Jersey turnpike and we were away. In the distance was one of the most recognisable skylines in the world – beautiful , stoic and strong with the Freedom Tower rising like one big middle finger pointing at you know who.
I would say NYC is my favourite city (apart from Newcastle, of course) in the world but we were heading the other way. I love daydreaming about the Boss trundling along these very roads way before he made it, playing the dives, paying his dues for nickels n dimes…then I woke up and we were at the gig.
Mexicali is a great looking club and I checked the posters of who had preceded us and who was next in town. It all looked pretty impressive.
Soundcheck done and dusted, quick shower, shave and shakedown at the hotel and then it was back to the venue. There was no time to eat before the show so we had to fill up afterwards…
My good friends the Ritters (Al and Maria) were in the crowd, joining us for a seven show stint! Trish and I met Al and Maria on the first Monsters of Rock cruise that we played and have become great friends since.
There was a great band on before us who name escapes me at the moment (but I'll get back to you on that one). The stage was a nice size but there was quite a drop just to my left which always makes you wary as I have taken a tumble a few times in my career!
The band was firing on all cylinders and the crowd were loving it, a couple of Jagers and some cold ones after the show with our pals and the very hospitable club owners and it was rock snooze o'clock. Next stop Philadelphia.
PG
* The Quireboys' new album Black Eyed Sons is out now!
* Click here for a full list of tour dates in 2014.