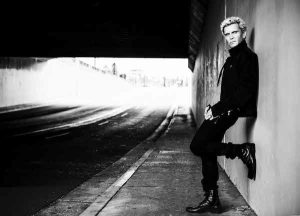 It's that time of the week when we round up the very best in new rock and metal.
And there are some seriously big hitters jostling for position in a bumper week for fans of all things hard and heavy.
Billy Idol (pictured), Alice Cooper and Styx's Dennis De Young are back on the scene.
There's new music from Vega, Dalton and Allen/Lande.
We check out some old school thrash metal classics courtesy of Anthrax and Exodus.
And we review and rate new music from Riwen, Posthum, Pig Destroyer and Inter Arma.
Every Sunday we reveal the RUSHONROCK RECORD OF THE WEEK. And we round up the very BEST OF THE REST. 
RUSHONROCK RECORD OF THE WEEK
Exodus – Blood In, Blood Out (Nuclear Blast)
Genre: Thrash Metal
The argument surrounding which band could comfortably belong to thrash metal's theoretical 'Big Five' rages on. Testament? Overkill? Nuclear Assault?
On Blood In, Blood Out the crazed Californians of Exodus make a watertight case for inclusion with their best album since 1990's Impact Is Imminent.
Steve Souza's classic vocals are undiminished with age as he rages his way through a record that's built to last. Bravely, Exodus use their first long player in four years to build to a startling crescendo: the opening tracks appear weak by comparison but judged as a whole this album works a treat.
Honor Killings, the penultimate track, rhymes 'female genital mutilation' with 'ignore the explanation' to chilling effect – it's a genuine eye-opener and compounds the belief that this is a seriously weighty piece of work.
Souza and Exodus have rarely sounded so relevant. Where modern thrash metal is concerned this is a game changer. Simon Rushworth
RUSHONROCK RATED: 10/10 Blood Letting
BEST OF THE REST

Billy Idol – Kings & Queens Of The Underground (BFI Records)
Genre: Pop Rock
The long awaited album Kings & Queens Of The Underground, from legendary rocker Billy Idol, is finally here.
For long-time fans it's a thrill so see Billy and the legendary Steve Stevens are unite again and their partnership doesn't disappoint.
Postcards From The Past forces the hairs on the back of the neck to stand to attention: the distinctive Rebel Yell and White Wedding-era riffs bringing the past very much into the present. Superb!
Recently released Can't Break Me Down is a strong, defiant and catchy track in the face of those who strive to bring us down in life. Bitter Pill depicts Idol riding his bike, addiction, love and sacrifice. 'It's a wicked world baby!', screams the in-form singer and who could disagree?
This album is very personal to Idol and he lays himself bare across all 10 tracks. Save Me Now is a plea for a loved one to come to the rescue – restoring faith in humanity.
Idol uses Dancing With Myself to explore how humans love, hate, feel rejected, and yearn to be close to someone while One Breath Away paints a picture of a situation being so close yet so far away. Idol digs deep to explore the idea of too much pressure and the need to hide away, seeking reassurance.
Nothing To Fear potrays a fear of falling. And after so many falls and remarkable comebacks Idol, through the support and help of his loved ones, is stronger than ever as he faces the future.
The title track is a beautiful biographical track as the comeback king reflects on the past and looks to the present with typical optimism. This album is one of Idol's best – deep and meaningful with lyrics that appeal to both the younger and older generations. Heather Walker
RUSHONROCK RATED: 9/10 Underground Hit

Riwen – Riwen (Indie Recordings)
Genre: Hardcore
Johannes Persson, as a member of Cult Of Luna, has made his name creating some of the most atmospheric and evocative rock music ever recorded… along with Isis, the Swedes have defined the 'post-metal' sound (whatever that is). Riwen, however, are a much more aggressive, direct proposition. The Swedes draw on a dark, gnarled strain of hardcore which is both emotionally intense and in places, absolutely furious: this EP's second track, Values, hits like a baton round to the face.
However Riwen are no knuckle dragging, aggro for aggro's sake outfit, with Karlsgrundet –  the closing track on this debut release – boasting a more expansive sound, as well as drawn-out, melancholic outro complete with strings.
Persson is a talent, there's no doubt about that – and Riwen proves he has plenty to offer the hardcore scene. We want more of this – and soon! Richard Holmes
RUSHONROCK RATED:  7/10 Core Of Luna

Posthum – The Black Northern Ritual (Indie Recordings)
Genre: Black Metal
Posthum's progressive black metal may not yet rival the majestic compositions of fellow Norwegians Enslaved – but with The Black Northern Ritual, this trio have still made a significant mark on underground BM.
The title track boasts the kind of stirring, windswept chord progressions that make you feel like standing atop an icy mountain peak in the depths of winter, while To The Pits brings a vicious, mid-paced stomp to proceedings. Closer, North, meanwhile, is a near 11-minute epic, which veers close to Wolves In The Throne Room territory near its conclusion. Never a bad thing.
However, for all its diversity, there is a layer of pure BM spite underscoring Posthum's work, with Jon Skare's vocal delivery boasting plenty of bite.
Atmospheric, passionate and delivered with aplomb, The Black Northern Ritual is a step up for this formidable band. RH
RUSHONROCK RATED: 7.5/10 Northern Darkness

Pig Destroyer – Mass & Volume (Relapse)
Genre: Doom Metal
Virginia mob Pig Destroyer have spewed out a relentless stream of furious grindcore since 1997. Mass & Volume, though, sees the band take a break from hyperspeed fretwork and pummelling blastbeats, and embrace doom metal, slowing their music down to a snail's pace.
This two-track album, taken from the same sessions which birthed 2007's landmark Phantom Limb opus, is excruciatingly heavy, crushing souls and flattening cities in its wake. It also has a whiff of psychedelica about it too, especially as Mass draws to its conclusion.
Volume, the shorter of the two pieces, is more conventional, with meaty riffs you can get your teeth into: Jr Hayes' caustic vocals also lend it a nasty, Eyehategod-like viciousness.
This won't have many of doom's top tier quaking in their boots, but Mass & Volume is nevertheless an eye opener… and proof that there's more to Pig Destroyer than meets the eye. RH
RUSHONROCK RATED: 6.5/10 In The Slow Lane

Inter Arma – The Cavern (Relapse)
Genre: Doom/Post-Metal
Inter Arma's new EP is a slow burner, but it burns very bright, taking the listener on a single-track, 45 minute-plus odyssey through heavy music, embracing doom, sludge, stoner, post-rock… well, pretty much anything loved by bearded, tattooed, plaid-shirt wearing, scruffy blokes.
The Richmond, Virginia band's expansive soundscapes are enthralling, and while the opening segments of The Cavern are so far, so Neurosis, Inter Arma show their progressive mettle as the song develops, and there's an emotional depth to their work… as well as some impressive musicianship: drummer TJ Childers really lets loose, punctuating The Cavern with intricate fills, while guitarists Trey Dalton and Stephen Russell veer from tar-thick riffery to melancholic Americana, to the kind of complex fretwork that Mastodon fans will surely appreciate.
If there's one criticism of The Cavern, it's that it can drag in places: however any dull moments are few and far between, and with patience, you'll absorb this EP into your very being. RH
RUSHONROCK RATED: 7.5/10 In-Form

Alice Cooper – Raise The Dead: Live From Wacken (UDR)
Genre: Shock Rock
With three releases in the last four years, laying your hands on some live Alice Cooper is hardly a challenge. It's not as if the world is crying out for another set of shock rock classics featuring the genre's great survivor so what makes this Wacken package worth the money?
For starters it's set against a backdrop of one of metal's most significant festivals with thousands of frenzied Germans singing their heart out to Billion Dollar Babies, Hey Stoopid, I Love The Dead, Poison et al. And you don't hear that every day.
Secondly, one Euro from every CD/DVD/Blu-ray sold goes directly to the The Wacken Foundation – supporting the next generation of rock and metal heroes.
If you're new to the Coop then start here (but where the f**k have you been all these years?) but if you already own 2012's No More Mr Nice Guy Live or 2010's Theatre Of Death: Live At Hammersmith keep your cash in your pocket and donate a Euro direct to Wacken's foundation. SR
RUSHONROCK RATED: 7/10 Raise The Money

Anthrax – Chile On Hell (Nuclear Blast)
Genre: Thrash Metal
As long as Anthrax's Big Four remain tight then the future is bright.
Scott Ian, Joey Belladona, Frank Bello and Charlie Benante are, in the eyes of the die-hards, the quartet that epitomises New York's thrash metal icons at their brilliant best. And as a precursor for the follow-up to 2011's angsty Worship Music, this live CD/DVD package proves the point.
All four may have experienced their ups and downs during Anthrax's turbulent 33-year history but stick them on a stage in front of Santiago's most rabid residents and their collective enthusiasm knows no bounds.
The band's sound isn't great and Belladona is only briefly convincing but as a spectacle this is something very special indeed.
A manic rendition of Caught In A Mosh guarantees there's no hanging about where this high-octane show is concerned and an eight minute-plus version of Indians is mesmerizing.
This isn't the most professional show Anthrax have ever played. But the sense of scale, togetherness and raw passion makes for a monumental metal event. SR
RUSHONROCK RATED: 7/10 'Thrax For The Memories
Genre: Hair Metal/AOR
There was a time when Dalton were bidding for top billing alongside Europe and Treat as Sweden's premier pop metal export with Michael Bolton and Jon Bon Jovi just two of the artists happy to provide songwriting support in the 80s.
A brilliant if brief dalliance with mainstream success ended in familiar disappointment as the bottom suddenly dropped out of the market for the band's sugary sweet made-for-MTV fare.
But the best part of three decades hasn't dulled their senses when it comes to creating polished radio friendly rock and Pit Stop is a thrill-a-minute ride down memory lane from start to finish.
Favourites at this year's inaugural Frontiers Rock Festival, the Stockholm quintet play like their lives depend upon keeping the hair metal flag flying with glorious nods to Leppard, late 80s Whitesnake and fellow countrymen Europe making for a memorable return. SR
RUSHONROCK RATED: 9/10 Don't Stop

Vega – Stereo Messiah (Frontiers) 
Genre: Hard Rock/Melodic Rock
Vega are an exciting proposition and, in the eyes of many, the saviours of chorus-driven homegrown rock.
Returning to Frontiers – the label that launched the band with the brilliant Kiss Of Life way back in 2010 – and supported by Def Leppard's Joe Elliott and Harem Scarem's Harry Hess it seemed Stereo Messiah couldn't fail.
And yet it does. Spectacularly so. There's none of the emotion and passion frontman Nick Workman regularly serves up on the live stage and Hess has to take some of the blame. As the man responsible for mastering Stereo Messiah he's missed a trick.
Our advice is simple: don't judge this fantastic band on an album that doesn't do them justice. Catch them live this winter and look forward to Elliott and Workman joining forces for real when Vega join the Down N Outz in December. SR
RUSHONROCK RATED: 5/10 Stereo Messier

Allen Lande – The Great Divide (Frontiers)
Genre: Hard Rock
Jorn Lande and Russell Allen are rightly revered in the hard rock world. The former even stood in for the late Ronnie James Dio during Heaven And Hell's acclaimed 2010 High Voltage Festival set. And he did a belting job.
Allen has long been established as the voice of Symphony X and on paper this collaboration should have the chops to blow the opposition out of the water.
But just as 2010's The Showdown didn't quite fulfil the duo's obvious potential this weak album limps along like a second rate tribute to 80s hard rock. Imagine David Coverdale's 1987-era Whitesnake fused with Dokken…it doesn't even meet those standards most of the time.
Perhaps The Great Divide is an admission that Allen and Lande approached this record from wildly different angles and without a common goal. Consistency and quality are not its strongest suits. SR
RUSHONROCK RATED: 4/10 Crash Lande-ing

Dennis De Young (And The Music Of Styx) – Live In Los Angeles (Frontiers)
Genre: AOR
Dennis De Young. The music of Styx. Live in Los Angeles. There's a certain ring to those three succinct sentences that suggests this live CD/DVD package will be a bona fide winner. And it is.
Right from the start De Young oozes charisma and confidence – chatting with the El Rey Theater crowd and freely admitting he's getting on.
The voice of Styx may be fast approaching 70 but boy can he hold a tune. And he does it for 90 minutes almost without a flicker with classics including Grand Illusion, Mr Roboto and Babe delivered with note-perfect precision.
A stage set designed by De Young's son and eight cameras make for a brilliant backdrop to a fantastic show. But this is all about the music. Enjoy it. SR