RUSHONROCK was out in force as the 2016 Ramblin' Man Fair took centre stage. Full reviews to follow but here's what we gauged from day one of the summer's hottest rock festival:
Nobody misses knee-deep mud and torrential rain
What a difference the weather makes. It's the luck of the draw but Ramblin Man benefitted from one of the best weekends of the summer – hot sunshine and the rolling Kent hills providing the perfect backdrop to this relaxed and friendly festival. Sunburn, rather than trench foot, was the biggest threat to revellers at Mote Park and even Sunday looks set fair.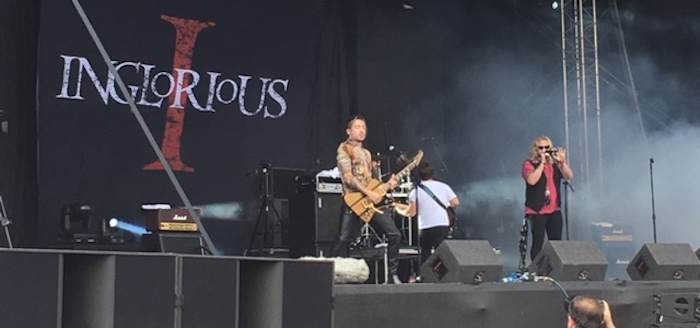 Inglorious are the new saviours of British classic rock
We knew this. But thousands of Rambin' Man revellers didn't have a clue. Step forward charismatic frontman Nathan James with pants so tight that event the highest note was achieved with ease. Born to command the world's biggest stages this quintet look and sound the part – channelling the classic rock greats with a subtle twist. Remember when David Coverdale unleashed Whitesnake? History is repeating itself right now.
Supply and demand is a basic of good business
By mid-afternoon the modest merch stand had already sold out of both signature Ramlbin' Man tees in all men's sizes. An apologetic sign encouraging punters to check back in the following day didn't cut the mustard with the Saturday crowd. No doubt the wonders of the world wide web will satiate the appetite for some fantastic designs but nothing beats buying your official festival clobber on the day.
Joey Tempest is the greatest frontman in rock
And on a day when David Coverdale, Ginger Wildheart, Ricky Warwick and Nathan James all set the main stage alight it took a Herculean effort from the super smooth Swede to beat allcomers. Whatever your take on Europe's pop rock past – and their 80s back catalogue still sounds brilliant 30 years down the line – there's no denying Tempest is the ultimate showman. He's been promising The Final Countdown since 1986 but there's life in the old dog yet.
Rosalie Cunningham has made prog rock sexy
If you missed Purson at Ramblin' Man then you missed out. We didn't. In fact we were hanging over the barrier right next to singer Rosalie's mam to catch a glimpse of the most exciting thing to happen to progressive/psychedelic rock ever. Our love affair with Purson started at Download last year thanks to a tip-off from our buddies at Spinefarm Records. Twelve months down the line and the band has broken America (and a few hearts), released a brilliant new album and threatened to take prog rock mainstream. Imagine that.