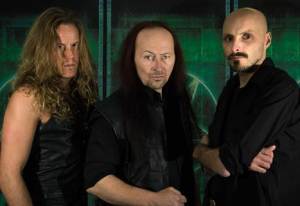 It's that time of the week again when we check out the very best in new rock and metal.
And today marks the return of black metal pioneers Venom (pictured) and UK noise merchants Napalm Death.
There's melodic rock courtesy of Level 10 and Sweet And Lynch. Plus we check out some brutal metal from Sylosis.
Papa Roach return with their most eclectic album to date and there's new music from Xibalba.
Every Sunday we reveal the RUSHONROCK RECORD OF THE WEEK. And we round up the very BEST OF THE REST. 
RUSHONROCK RECORD OF THE WEEK

Papa Roach – F.E.A.R. (ElevenSeven)
Genre: Hard Rock/Nu Metal
When Papa Roach launch into their Def Leppard turn on the teary power ballad Never Have To Say Goodbye (yes, really) it's difficult to equate these consummate hard rockers with the nu-metal upstarts responsible for Incest.
But before the band's die-hard followers baulk at the thought of Jacoby and co. going all soft, the multi-faceted F.E.A.R. also represents a return to those angsty, angular riffs and the attitude inherent in a vibrant late 90s scene.
Just As Broken As Me is Roach gloriously revisiting their roots – a pounding anthem set to win over rock fans Nu and old. And the bouncy rap rock of Gravity provides a pertinent juxtaposition alongside the over-produced hit-in-the-making NHTSG.
Papa Roach have become the masters of reinvention in recent years as they successfully stay one step ahead of those hemmed in by genre expectations and tied to the past. But F.E.A.R. goes back to the future as the quintessential record of the Californian rabble rousers. Simon Rushworth
RUSHONROCK RATED: 9/10 F.E.A.R.-less
BEST OF THE REST

Xibalba – Tierra Y Libertad (Southern Lord)
Genre: Hardcore/Extreme Metal
'Xibalba', in Maya mythology, is an underworld realm ruled by death gods: an appropriate name, then, for a band whose unholy, downtuned collision of hardcore and death metal sounds like Hades unleashed.
Tierra Y Libertad, the Californians' third full length, is an exercise in modern brutality which will have fans of Nails and Trap Them drooling. Granted, it's not as immediately engaging as that pair's recent work, but Xibalba's nods to tar-thick doom and old school DM (check out the solo on Invierno, or the dense riffing of En Paz Descanse) give this opus a charm sometimes lacking in their somewhat one dimensional contemporaries.  Hell, even artist Dan Seagrave – responsible for classic Entombed, Morbid Angel and Dismember artwork – lent his creative talent to the cover of Tierra Y Libertad.
However, despite the strong nods to extreme metal's past, Xibalba are heading in their own direction… and it's a wholly terrifying one. Menacing, brooding and absolutely crushing, Tierra Y Libertad shows that this Pomona quintet have truly arrived. Richard Holmes
RUSHONROCK RATED: 7.5/10 Scorched Earth

Napalm Death – Apex Predator – Easy Meat (Century Media)
Genre: Grindcore/Extreme Metal
It's mind boggling to think that it's been three decades since Napalm Death blasted through the crusty confines of Birmingham's Mermaid pub – and equally astonishing that in 2015, the legendary act have lost none of their bite and sound as relevant as ever.
The last 10 years have been highly productive for the band, their creative juices showing no signs of drying up. But Apex Predator – Easy Meat tops even 2012's stunning Utilitarian: the opus wears the quartet's more left-field influences on its sleeve (Swans, Killing Joke, the title track even hints at PiL); it spits out catchy riffs and quick fire tempo shifts by the dozen; and in How The Years Condemn, it easily boasts one of the finest tunes in the Napalm canon.
And make no mistake, for all the band's intriguing lurches into bleak post-punk (Dear Slum Landlord, for instance), they also remain the best in the business at producing frantic, furious grind, as the likes of One-Eyed prove.
This musical feast is a wake up call for both grindcore's young pretenders and extreme metal's grizzled veterans. Yet again, Napalm Death have set the bar impossibly high. RH
RUSHONROCK RATED: 9/10 Meat-hooks

Venom – From The Very Depths (Spinefarm)
Genre: Black Metal/Heavy Metal
Venom may not be the poisonous metal beast of old, stripped of their mystique and far too popular to claim a place in the underground. However, Cronos and co. can still craft a pretty mean collection of heavy tunes and From The Very Depths does what it says on the tin.
Time and time again the Geordie trio create an other-worldly atmosphere that chills to the bone and plays with the brain. The title track talks of 'summoning Satan' but even the devil himself must look upon Venom with an element of fear and suspicion.
Humour – as well as hellraising – is at the heart of From The Very Depths and when Cronos rolls out the classic couplet 'we're killing Kid Creole/the death of rock n roll' (on The Death Of Rock N Roll!) it's impossible to stifle a wry smile.
Dismiss this metal institution at your peril. Venom still reign supreme. SR
RUSHONROCK RATED: 8/10 Depths Of Despair
Sylosis – Dormant Heart (Nuclear Blast)
Genre: Metal
It's disappointing just how dull Dormant Heart turns out to be. Dormant Creativity might have been a better name for an album that spectacularly fails to do justice to the brilliant Sylosis back catalogue.
To Build A Tomb is predictably brutal but for all its heaviness, heartfelt angst and bitter riffage it's about as challenging as hook-a-duck. If only the Reading noiseniks had managed to hook a hook – some recognisable sound on which to hang their fourth long player.
Dormant Heart is the sound of a band that needs a kickstart. An act that needs to kick on. A quartet that needs an almighty kick in the bollocks by management, fans, whoever – somebody, somewhere needs to grab hold of a band smothered in mediocrity and remind them of what they do best.
Edge Of The Earth, from 2012, might be a good place to start. This is simply the edge. And we'd hate to see Sylosis fall off it altogether. SR
RUSHONROCK RATED: 5/10 Heart Ache

Sweet And Lynch – Only To Rise (Frontiers)
Genre: Melodic Rock
A super smooth duo made in melodic rock heaven: what could possibly go wrong where the collaboration between Stryper's Michael Sweet and Dokken's George Lynch is concerned?
Well, not a lot. It would have been a major surprise had Only To Rise fallen flat given the combined talents of its chief architects and the question here is whether the quest for pure quality has won out over natural complacency.
Sweet And Lynch could probably make a string of similarly smooth rock albums with their eyes shut but at times it's clear they've thought hard about where they want this record to go.
The former benefits from the break from his day job – with religion merely hinted at rather than promoted as a key theme – and Lynch has rarely sounded so free.
The shared sense of liberty fuels the terrific Time Will Tell and the Stryper-esque Strength In Numbers – the two standout additions to a setlist that's consistently impressive. SR
RUSHONROCK RATED: 8/10 Rising Stars

Level 10 – Chapter 1 (Frontiers)
Genre: Melodic Rock
The quest to create the perfect melodic rock record with added bite goes on. But Russell Allen (Symphony X, Adrenaline Mob) and Mat Sinner come mightily close to achieving the seemingly impossible with Chapter 1.
A collaboration many years in the planning, it mixes the heavier side of Whitesnake's late 80s output (Cry No More) with Dio-era Sabbath (No Way Out) and reaches a peak on the anthemic Scream And Shout – a Twisted Sister-esque nod to hard rock. Oh, and ballad All Hope Is Gone is a belter.
The album's name hints that this latest Frontiers partnership is in its infancy but with both key players facing a typically hectic schedule in 2015 the prospects of live dates must be bleak.
Level 10 might, for now, be destined to stay within the four walls of a studio but such is the quality, experience and passion of its major contributors it's easy to imagine the band's debut transferring to the stage. Fingers crossed. SR
RUSHONROCK RATED: 8/10 Top Level