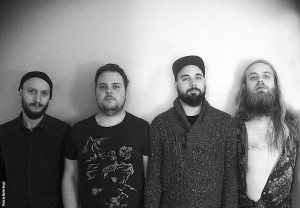 Welcome to the first batch of album reviews from 2015 as we ease into what promises to be another belting year for the music we love.
Dependable shock rocker Wednesday 13 delivers his most wacky opus to date and death metal crew Ingested return.
There's new music from Beardfish (pictured) and we check out the latest offering from The Crown.
Plus there's power metal courtesy of Battle Beast.
Every Sunday we review and rate the very best in new rock and metal album releases.
And we reveal the RUSHONROCK RECORD OF THE WEEK. 
RUSHONROCK RECORD OF THE WEEK

Battle Beast – Unholy Saviour (Nuclear Blast)
Genre: Power Metal
Nora Louhimo's uncomfortable debut on Battle Beast's self-titled 2013 album struck fear into fans of the Finnish power metallers – it was too much, too soon for Nitte Valo's tentative successor and suggested the dream could be over barely before it had begun for a band that had screamed potential on gritty debut Steel.
But Beasties the world over can breathe a collective sigh of relief: Unholy Saviour is an assured return to form with crunching riffs and caustic vocals creating a fast and furious take on trad metal. And Louhimo is loving every minute.
The sparky Speed And Danger boasts a blistering solo forged in metal's golden era and if the Euro pop of Touch In The Night will appall true believers it could be a breakout anthem for this fast-evolving six-piece.
Every wrong turn has been gloriously righted on Battle Beast's best record yet with the Turisas-esque instrumental Hero's Quest a pulsating highlight. Their recovery from potentially fatal second album syndrome is complete: this is a band in rude health. Simon Rushworth
RUSHONROCK RATED: 9/10 Battle Hardened
BEST OF THE REST

Ingested – The Architect Of Extinction (Century Media)
Genre: Death Metal
One of a slew of brutal death/deathcore bands to spring from the UK noughties underground, Ingested are now on album number three… and have lost none of their head-battering viciousness.
Jason Evans sounds like his vocal chords have been transplanted from some demonic beast, while Sam Hynes and Sam Yates unleash a tsunami of crushing riffs which sync with Lyn Jeffs' drumming to ferocious effect: the opening blasts of Narcissistic Apathy, for instance, will leave you absolutely flattened.
The problem with The Architect Of Extinction is that for all Ingested's slick, focused delivery, much of the material fails to leave a lasting impression – I Despoiler is catchy and undoubtedly slays but it's not a feat repeated too often elsewhere.
Plus, the only variety is offered by the instrumental, semi-acoustic interlude, Penance… and this opus could have done with some extra spice.
Nevertheless, if punishing DM, peppered with hardcore breakdowns, gets your adrenalin pumping, you could do worse…Richard Holmes
RUSHONROCK RATED: 6/10 Brutal Blueprint

The Crown – Death Is Not Dead (Century Media)
Genre: Extreme Metal
The Crown are back with their first album in five years and with original vocalist Johan Lindstran back in the fold and leading the charge, the Swedes are making up for lost time.
Their thrashed-up, melodic death metal is full of the spirit that made releases like Deathrace King and Crowned In Terror so vital, and spiky, Scandi-riffs burst forth at every turn.
Horrid Ways boasts a titanic groove, Ride To Ruin is biker-metal for Satan's very own motorcycle club and the stomping cover of Paradise Lost's Eternal is an unexpected treat – and more than does the classic track justice. The windswept, epic-like Meduseld, meanwhile, provides a brief respite before closing effort, Godeater pretty much does what it says on the tin. There's a bit of filler, granted, but not enough to tarnish Death Is Not Dead.
So, like The Haunted an At The Gates, The Crown are showing that there's plenty of life left in Sweden's veteran extreme acts – and we'll raise a toast to that. RH
RUSHONROCK RATED: 7.5/10 Majestic

Wednesday 13 – Monsters Of The Universe: Come Out And Plague (Devco/Cargo Records)
Genre: Shock Rock
Wednesday 13 has always been freaky, ghoulish, wacky and weird. But on Monsters Of The Universe he's plain and simple spaced out. Just when you thought the master of mayhem couldn't push the boundaries of creativity any further an epic concept comes out of nowhere.
More Hawkwind than Alice Cooper, this 14-track feast of the other-worldly is not, however, a complete diversion from the well trodden shock rock path. Familiar grinding riffs and that trademark throaty vocal style mark it out as typically Wednesday and I Love Watching You Die – the best song here – could comfortably feature on the classic Calling All Corpses.
It's remarkable that one of the hardest working me in rock continues to find fresh inspiration at a time when Cooper and Rob Zombie refuse to retire gracefully. Where carving a new niche is concerned this is as close as Wednesday will come. SR
RUSHONROCK RATED: 7/10 Monsters Energy

Beardfish – +4626-Comfortzone (Inside Out)
Genre: Progressive Rock
Here at RUSHONROCK we take it for granted that any band coming out of Sweden in 2015 will be bloody brilliant: Beardfish are in no mood to blow that simple theory out of the water.
Part foreboding, part uplifting, +4626-Comfortzone is based around the rise of nationalism and it's a record that requires careful consideration and the broadest of minds.
Luscious musical arrangements fused with lyrics that demand debate make for an occasionally uncomfortable but always enlightening experience. The two-part The One Inside perfectly sums up an ambitious juxtaposition with frontman Rikard Sjöblom adjusting his vocal range to capture the mood.
Daughter/Whore's reliance on a gloriously unabashed NWOBHM riff throws an unexpected curveball but that's what Beardfish are all about: embracing the norm is anathema to one of the finest progressive bands in Europe. SR
RUSHONROCK RATED: 9/10 Fish Tales