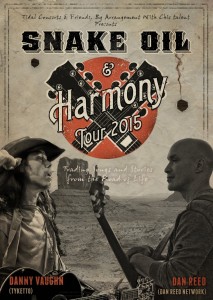 @Newcastle The Cluny, April 2 2015
It's official. Dan's the man. And the man.
Messrs Vaughn and Reed proved that two voices and a couple of guitars are all that's required for a night of superlative rock and roll entertainment.
This special partnership pulled off a spine-tingling tour de force with minimum fuss and maximum talent. 
Mixing pre-rehearsed hits with fan requests and selected covers, the Snake Oil And Harmony Tour always looked like a winner on paper. Yet few could have predicted this spectacular triumph.
If the songs were the focus then the banter was brilliant. Both men struck an affecting balance between the serious and the good humoured – Reed's cheeky one liners and boyish grins punctuated by moving spoken word passages charting his own life's journey and heartfelt tributes to the late Robin Williams and Ronnie James Dio.
Those casual observers who chose to chat their way through most of the set had surely wandered in accidently from The Cluny's main bar unaware of the unique event unfolding before them: anyone who knew their music barely uttered a word as one of the North East's great live gigs jockeyed for position in the region's rock n roll folklore.
Early highlights included Avalanche (Reed) and Gandy Dancer (Vaughn) but Double D had only just got started. Baby Now I recalled the funk rock prime of the Dan Reed Network, Tyketto's Wings was a revelation and Reed's cover of Fields Of Gold breathed new life into Sting's dreary original.
Vaughn took time out to explain how the partnership came about – Tyketto and the Dan Reed Network shared a stage many moons ago and the mutual respect was instantaneous – and namechecked those Facebook friends who'd requested the odd rare gem from his varied back catalogue.
Reed, meanwhile, revealed he was 17 days into life as a non-smoker and confirmed the Network would be heading to Newcastle in the autumn. But none of the mid-set talk disrupted the flow of a truly remarkable show.
Riding high on the crest of a wave of emotive songs and self-deprecating humour, the two Dans somehow exceeded all expectations in an intimate setting perfect for this most challenging of concerts. High pressure and not without its potential pitfalls, it's testimony to two consummate professionals that Vaughn and Reed pulled it off with aplomb.
A cover of Dio's Holy Diver was unexpected and utterly absorbing. But that was this gig all over.
Simon Rushworth