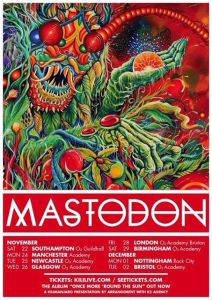 @Newcastle O2 Academy, November 25 2014
Mastodon returned to Newcastle for the first time in four years delivering an unrelenting 18-song setlist.
The Once More Round The Sun tour was announced in July and the fact that the Atlanta metal giants hadn't been in the North East since February 2010 simply added to a sense of feverish anticipation. 
The UK's own Krokodil served up a number of heavy aperitifs and received a good reception from those who turned up early enough to see them.
Seattle sludge metal duo Big Business took to the stage soon after and brought some great energy to the O2 Academy.
Being a two piece outfit of bass and drums, Big Business were nothing short of entertaining with Coady Willis behind the kit and Jared Warren pulling the strings.
They then exited to provide the calm before the storm.
Cue the entrance of Mastodon.
Darkness descended and the eerie echoes of the intro to Tread Lightly rang around the academy.
The quartet embarked on their mammoth set and pulled no punches.
Troy Sanders conducted the crowd perfectly and was instrumental in audience interaction.
Brent Hinds and Bell Kelliher played majestically and gave impeccable performances.
The 18-song setlist struck the right balance between new and old and treated fans to the classics enshrined in sludge metal history.
Oblivion, Aqua Dementia, Megalodon, Crystal Skull and Blood And Thunder were just a few of the older tracks performed immaculately by the metal giants.
Once More Round The Sun divided opinion upon its release but despite its more radio friendly nature it is still a no-holds-barred record.
The performance from Brann Dailor was faultless and he made a personal speech to thank the Mastodon disciples and pay tribute to Isaiah Owens who recently passed away from a heart attack.
With this show and the release of yet another superb record, Mastodon have been elevated to the echelons of metal royalty.
Long may it continue.
Guy Bell