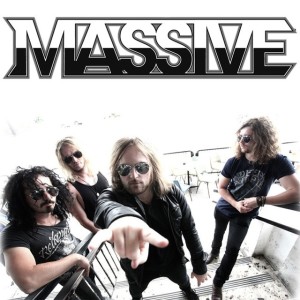 It's that time of the week when we round up the latest releases from the world of rock and metal.
And it's been a busy time around the RUSHONROCK Reviews table with 12 new albums vying for our undivided attention.
There's the UK debut of Aussie noiseniks Massive plus the return of wrestler turned rocker Chris Jericho with Fozzy.
Prog legends Yes, alt rock oddities Knifeworld and thrash metal icons Overkill all release new music this week.
Plus we run the rule over Rise Against with their latest punk rock album picking up praise from across the board.
Mortals, Ultramantis Black (another wrestler trying his hand at music!) and Demonic Resurrection serve up some top drawer heavy music.
And we deliver our verdict on the latest sounds by Goatwhore, Martyrdod and Electric Funeral.
Every Sunday we reveal the RUSHONROCK Record Of The Week and we round up the very Best Of The Rest. 
RUSHONROCK RECORD OF THE WEEK

Massive – Full Throttle (Earache)
Genre: Hard Rock/Classic Rock
If there's one label that's leading the (however unlikely) charge when it comes to breaking new rock and roll talent right now then it's Earache. And after bringing Rival Sons, The Temperance Movement and Blackberry Smoke to the fore in recent years the Nottingham-based firm have found the next big thing – again.
Massive are a little more straightforward, generic and gutsier than their Earache buddies and the comparisons with fellow Aussies Airbourne are inevitable. However, on songs like Ghost it becomes clear that there's more than simple balls-to-the-wall bluster to this much-hyped band: think a heady combo of Little Angels meets Aerosmith.
Regular readers of Classic Rock Magazine have been playing Full Throttle to death after bagging the album for free a few weeks back. But this full British release comes with the added bonus of four extra tracks – including the wholly unsurprising yet impressive AC/DC cover.
Whether you're a fan of the Young brothers, love Slash's output with Myles Kennedy, have a soft spot for Heaven's Basement or simply love loud and proud rock n roll there's room in your life for Massive. Simon Rushworth
RUSHONROCK RATED: 9/10 Huge Potential
BEST OF THE REST

Rise Against – Black Market (Polydor)
Genre: Punk Rock
After nine years, six albums and over four million albums sold across the face of the globe, Rise Against find themselves firmly seated amongst punk royalty. Following the success of 2011's Endgame, Tim McIlrath and co. have come back with a wonderfully raw album that gives a similar vibe to Against Me's Transgender Dysphoria Blues.
Kicking off with two incredibly powerful tracks, this masterpiece wastes no time in getting underway, as the instant anger and aggression of The Great Die Off seeps through, setting the tone for the record.
Followed by I Don't Want To Be Here Anymore, the Chicago four piece have you sucked in – there is no way of escaping their beautifully intense, gripping lyrics. What sets this album apart, and in many respects what ties in to Transgender Dysphoria Blues, is the honesty in both albums.
Every word is sung from the heart, so much so that it feels like a struggle for McIlrath to keep a cap on his passion. Adam Keys
RUSHONROCK RATED: 9/10 Against All Odds

Knifeworld – The Unravelling (Inside Out)
Genre: Alt Rock/Psychedelic Rock
Eight members strong and beloved of their peers, Brit oddity Knifeworld take a bold stab at career advancement with The Unravelling – a poppy affair tinged with 60s psychedelic flair.
Sadly there's not enough to appeal to the prog rocker and it's just too bizarre to make the mainstream sit up and take notice. Founder Kavus Torabi and co-vocalist Melanie Woods trade a series of pleasant enough melodies and any 'rock' band that places such confidence in the saxophone deserves credit.
However, what The Unravelling lacks is any hint of consistency or identity. Just when it feels like you're falling in love with Knifeworld, Torabi chucks in a frustrating curve ball that's more likely to infuriate than impress.
Could be a grower but how long have you got? SR
RUSHONROCK RATED: 5/10 Knife Wound

Yes – Heaven And Earth (Frontiers)
Genre: Prog Rock
Like buses you wait ages for a new Yes album and then two come along at once: the follow-up to 2011's Fly From Here is the sound of a band back in the groove 13 years after Magnification looked like the last hurrah from a progressive rock institution.
The second of the band's 'comeback' records is assured, intensely melodic and just a little bit commercial. Sure Heaven And Earth is bookended by a couple of trademark epics – Believe Again and Subway Walls make up 17 minutes of this eight-track return to form.
But Step Beyond and In A World Of Their Own are two of the catchiest tunes Yes have penned in years and both would complement the band's most recent Greatest Hits setlist.
Steve Howe might not be to every guitar player's tastes but his fretwork is fabulous here – allowing newbie vocalist Jon Davison every opportunity to showcase his own considerable talent for recreating the band's classic 70s sound. Yes? Most certainly. SR
RUSHONROCK RATED: 8/10 Heaven Sent

Goatwhore – Constricting Rage Of The Merciless (Metal Blade)
Genre: Extreme Metal
Goatwhore have been kicking out the blackened death jams for 16 years, and album number six these Sammy Duet and his cohorts on rip roaring form. From the furious blast beats of Unravelling Paradise, to the Motörhead-powered Baring Teeth For Revolt (imagine Lemmy in corpsepaint and you get the idea), to the vicious thrash of FBS, Constricting Rage Of The Merciless is a whole heap of Satan worshipping fun.
There's not much progression here, and the only real change of pace comes with the atmospheric Cold Earth Consumed In Dying Flesh, but this opus captures Goatwhore in all of their savage glory (aided by a fine production job from über-producer Erik Rutan) and will appeal to both long term acolytes and, frankly, anyone looking for some hypercharged, blood spattered devil's music to shake their locks too.
Phenomenal stuff from the Louisiana boys. Richard Holmes
RUSHONROCK RATED: 8.5/10 Raging

Demonic Resurrection – The Demon King (Candlelight)
Genre: Black/Death Metal
If proof was needed of extreme metal's global reach, you'll certainly find it in Indian outfit Demonic Resurrection, whose symphonic black metal takes inspiration from the likes of Cradle of Filth and Dimmu Borgir, and who are making their name on these shores – thanks in part to them coming under Candlelight's wing.
The Demon King, the quintet's fourth full length, is an album brimming with ambition and well honed musicianship (Nishith Hegde's  guitarwork is particularly impressive). And on tracks like The Promise Of Never and Shattered Equilibrium, their dark riffery is deftly complemented by Mephisto's keyboards.
The CoF-like ivory tinkling is, at times, a little wearing (for instance, on Even Gods Do Fall), and the guitars could have done with more weight in the mix, but that doesn't detract from an otherwise polished, focused opus from Demonic Resurrection.  An impressive step forward. RH
RUSHONROCK RATED: 6.5/10 Rising Up

Overkill – White Devil Armory (Nuclear Blast)
Genre: Thrash Metal
Bobby 'Blitz' Ellsworth remains one of the defining voices of a genre and as he approaches his 35th anniversary fronting East Coast pioneers Overkill the lungs that launched a thousand thrashing anthems remain frighteningly powerful.
Down To The Bone is classic Overkill – combining the melody of Death Angel with the urgency of Anthrax. The New Jersey mob might have trailed in a distant fifth in their mid 80s bid to cling onto the coat tails of thrash metal's Big Four but a consistent body of work continues to grow.
White Devil Armory will have long-time fans digging out their 1988's Under The Influence vinyl but the band's most recent music is no mere imitation of glories past. Pig – with its punishing solo and DD Verni's driving bass line – is pure quality while Where There's Smoke relies on an intro so relentless that it's a relief when Ellsworth's trademark growl kicks in.
Thrash metal as it was always meant to be. End of. SR
RUSHONROCK RATED: 8/10 Killer

UltraMantis Black – UltraMantis Black (Relapse)
Genre: Hardcore
The debut EP by professional wrestler UltraMantis Black – who's backed here by members of US punk band Pissed Jeans – is an intriguing affair. UltraMantis may be an outlandish figure, but there's nothing 'razzmatazz' about the nine tracks of political hardcore unleashed here, and the strongman spits venom all over songs like Gloom of Prosperity and the eco-rant of Earth War.
The opening salvo of Biomonster DNA  and Prescription Culture get things off to a rather terrifying start, veering into grindcore turf at times, while Oil And Gas smashes you around the head like a titanium plated baseball bat.
Unsubtle, direct and for the most part, a compelling listen, with this EP UltraMantis Black has got his musical career off to a flying start. Just don't get in his way… especially if you work for an oil company. RH
RUSHONROCK RATED: 7/10 Wrestle Mania
Mortals – Cursed To See The Future (Relapse)
Genre: Extreme Metal
Like their fellow New Yorkers Tombs, Mortals' work isn't easy to pigeonhole, and the trio are capable of creating some truly extreme, dark music that doesn't sit within the confines of any particular genre.
Black metal, however, provides much of the bedrock to Cursed To See The Future, even if it sounds a world away from the forests of Norway: View From A Tower, for instance, generates plenty of bone-chilling atmosphere to accompany its blastbeat assault, but it's crumbling cities, rather than mighty mountains, that the song brings to mind.
The punishing, bottom heavy Anchored In Time, meanwhile, sees the Brooklyn band draw on their sludge influences, which they weave into the maelstrom to great effect, and Devilspell boasts a weighty, stoner/doom groove.
There are some fine bands emerging from the back alleys of the US at the moment, creating their own vision of what 'heavy' means: Mortals, with just their second full length, have just joined the front of the pack. RH
RUSHONROCK RATED: 7.5/10 Mortal Combat

Martyrdöd – Elddop (Southern Lord)
Genre: Hardcore Punk/Metal
'Progressive d-beat' might be a contradiction in terms, but Swedish outfit Martyrdöd have done more than most to incorporate melody and even a sense of drama to their furious output, and Elddop is no exception.
Their fifth effort carries on where 2012's mighty Paranoia left off, and while Elddop doesn't quite hit its predecessor's lofty heights, there's still plenty to get your teeth into here. More metal-orientated folk will no doubt revel in the meaty riffs of Mer Skada Än Nytta, and there's even hints of Bathory to Prästernas Tid, while Victoria boasts some of the band's most complex guitarwork yet.
However, if you're simply after some apocalyptic, crusty-ol' d-beat, then Tentakler and Hjärnspöken, the album's closer, will sate your thirst too.
Truly one of Swedish hardcore's finest acts, Martyrdöd have proved themselves one again with Elddop – and that's worth raising a pint of cider to. RH
RUSHONROCK RATED: 8/10 Död-beat

Electric Funeral – Total Funeral (Southern Lord)
Genre: Hardcore Punk
The d-beat genre may have been created by UK punks Discharge, but it has long since been championed by a multitude of Swedish acts, who've taken the crust-coated baton and run with it. Electric Funeral are one such band, and Southern Lord – now seemingly champions of crusty hardcore – have seen fit to release their discography in one comprehensive package.
Total Funeral, therefore, offers up 53 short, sharp shocks of filthy-sounding, quickfire hardcore. Raw, violent and with little regard for production polish, Electric Funeral's music isn't pretty, and is significantly more primitive than their fellow countrymen Wolfbrigade, Disfear or Skitsystem. However, Total Funeral is still a must for discore completists, and it won't take a genius to work out that songs like D-Beat Noise Attack and Make Noise Not War do exactly what they say on the tin.
Aggressive, passionate and embedded with a defiant, anti-authoritarian spirit, Total Funeral represents a band for whom 'compromise' was never an option. RH
RUSHONROCK RATED: 6/10 Burial Mound

Fozzy – Do You Wanna Start A War (Century Media)
Genre: Hard Rock
It's impossible to fault Chris Jericho's work rate as he continues to battle for recognition as a bona fide rock star – rather than a wrestler who likes to rock out.
A relentless touring machine, committed self-publicist, passionate metal-head and affecting singer, his pursuit of critical acclaim knows no bounds.
And Do You Wanna Start A War could be the album to kickstart a career that – in terms of studio output – had threatened to stall.
The industrial-tinged Lights Go Out might be more Ozzy than Fozzy (imagine the Prince Of Darkness fronting Depeche Mode) but it's a belting track and Shinedown would be happy to call Died With You their own.
There's a punkish hardcore vibe on the furious Brides Of Fire and that's what this album's all about – Jericho proving he can grapple with just about any guitar-fuelled genre and make a decent fist of it. Knockout stuff. SR
RUSHONROCK RATED: 8/10 War Cry