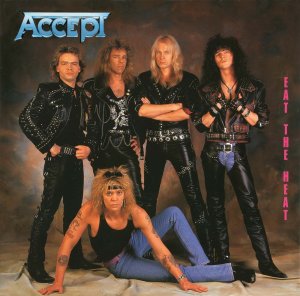 It's 25 years since Accept unleashed Eat The Heat on the metal world and one of the band's most commercial records to date remains a firm fan favourite.
Until 2010's Blood Of The Nations it was the only Accept album not to feature Udo Dirkschneider on lead vocals after the band turned to US singer David Reece. 
Widely touted as Germany's answer to Judas Priest, the band's power metal roots were still evident on Eat The Heat. But with Reece on board this was Accept's brazen reaction to the MTV boom and their ambitious bid to mix it with America's hard rock heroes.
At its heaviest Eat The Heat is part Priest and part WASP – it's no coincidence Blackie Lawless and co. hooked up with the Germans on a US tour immediately after the album's release.
But polished tracks like Turn The Wheel were a direct response to emerging US stars Dokken and Ratt – Reece's melodic tone offering the metal giants every opportunity to cling onto the coat tails of the West Coast's biggest names.
Stand 4 What U R might have been a cheesy turn too far for fans of the band's early 80s sound and it's difficult to imagine Dirkschneider Accept-ing such a stark change in direction.
But Eat The Heat was a standout release of its time even if its top 15 spot in the German album charts was in stark contrast to a desperately disappointing high of 139 on America's Billboard chart.
A quarter of a century down the line Hear No Evil Records have remixed and re-released this lost classic – including a Malcolm Dome essay and a bonus track in the shape of the single version of Generation Clash. Fans of late 80s hard rock loved Eat The Heat first time around and 25 years down the line it sounds better than ever.
Full Track Listing:
1. X-T-C
2. Generation Clash
3. Chain Reaction
4. Love Sensation
5. Turn The Wheel
6. Hellhammer
7. Prisoner
8. I Can't Believe In You
9. Mistreated
10. Stand For What U R
11. Break The Ice
12. D-Train
HNE 2014 Reissue Bonus Track: Generation Clash (Single Version)