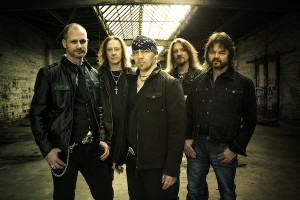 It's that time of the week again when we focus on the very best in new rock and metal album releases.
And today we review and rate new music from Linkin Park, Mastodon, Dead End Heroes (pictured), Acacia Avenue and The Dagger.
We throw the spotlight on Deaf Havana's new EP and check out Svart Records signings The Golden Grass.
There's a whole bunch of heavy stuff courtesy of Protafield, Monuments and Abaddon Incarnate.
Plus we review and rate new music from The Arkanes, Incantation and Darkest Era.
Every Sunday we reveal the RUSHONROCK RECORD OF THE WEEK. And we round up the very BEST OF THE REST. 
RUSHONROCK RECORD OF THE WEEK

Monuments – The Amanuensis (Century Media)
Genre: Tech Metal
To date, they might have lagged behind tech scene leaders like Tesseract and Periphery in the popularity stakes. However, thanks to this second full-length, Monuments should soon be jostling for top spot with that duo. For The Amanuensis is a significant step up from their 2012 debut, Gnosis, with a far greater emphasis on songcraft and a phenomenal performance by new singer (and ex-Periphery vocalist) Chris Barretto.
Of course, the band's trademark djent grooves and sparkling, intricate guitarwork are still here, but they provide the bedrock for tunes like Horcrux and The Quasimodo, rather than overwhelming them, and this opus is all the better for it.
Dedicated proggers needn't worry though, as there's still  plenty on The Amanuensis to get their teeth into (The Garden of Sankhara being a prime example) and anyone who thinks Monuments might have lost their harder edge should hear the aptly named I The Destroyer…
Closing with the dream-like, glistening Samsara, this album is a triumph for the quintet, and a landmark for tech metal. Richard Holmes
RUSHONROCK RATED: 8/10 Monumental
BEST OF THE REST

Dead End Heroes – Roadkill (AOR Heaven)
Genre: Hard Rock
Initially conceived as a solo studio project but now regarded as a genuine band with a serious future, Dead End Heroes have gone back to the future to create a delicious amalgam of hard rock's 70s and 80s-inspired highlights.
On the title track and Technicolour Love it's impossible to escape the feeling that Sammy Hagar has offered up a couple of Chickenfoot B-sides but once into their stride the Heroes go for glory. There's mid 80s Saxon mixed with the Michael Shenker Group and on Cry For The Moon organist Holger Seeger introduces a Magnum-esque flavour to a truly affecting album.
Seeger's subtle touches transform a good set into a great one – never more so on the epic Stormfront where hints of Deep Purple and Dio-era Sabbath add to the heady mix.
It's clear Dead End Heroes are heading in the right direction. Follow them. Simon Rushworth
RUSHONROCK RATED: 8/10 Dead Good

The Dagger – The Dagger (Century Media)
Genre: Hard Rock/Metal
They may have forged their reputations in death metal bands such as Grave and Dismember, but The Dagger sound a world away from such extreme acts.  For it's the likes of Dio, Deep Purple, Priest and Rainbow who provide the inspiration for the Swedes' fist pumping rock and roll… and from the Maiden worshipping, duel axe wielding Inside The Monothic Dome, to the biker scuzz of Nocturnal Triumph, the band are clearly having a great time paying homage to their forebears.
Original? Nope. Fun? Most definitely. Plus, The Dagger are a band who really know how to nail this late 70s/early 80s sound, and can certainly write a riff or two – as closer Dark Cloud demonstrates.
Whether fans of the members' 'other' acts will appreciate such lighters-in-the-air moments as Ballad Of An Old Man remains to be seen. But it's doubtful The Dagger will care one bit…RH
RUSHONROCK RATED: 6.5/10 Flashing blades

Darkest Era – Severance (Cruz Del Sur)
Genre: Metal
Severance, Darkest Era's second effort, is the work of a band quickly maturing – and forging their own, distinctive sound.
The Northern Irish act may describe their music as 'Celtic metal', and it's true that Irish folklore has inspired their songwriting , but it's the influence of Iron Maiden and Thin Lizzy which really makes its presence felt here… albeit with a far darker twist .
Songs Of Gods And Men, with its glorious chorus and dazzling, Gorham-esque leads, is simply phenomenal, bringing to mind Lizzy's Emerald in places. It's a track which sums up everything good about Darkest Era.
Elsewhere, they make forays into more extreme territory on Trapped In The Hourglass, or opt for quickfire, fist pumping metal on The Scavenger, and only let themselves down with the mellower Beyond The Grey Veil, which dents the album's impact somewhat.
However, that's a minor quibble, for if there's any justice in the world, Severance should see Darkest Era take their place in the Euro metal big league. A bright future surely awaits…RH
RUSHONROCK RATED: 7.5/10 A New Era

Incantation – Dirges Of Elysium (Listenable Records)
Genre: Death Metal
Constant line-up changes may have left Incantation with only one original member (guitarist/vocalist John McEntee), but that hasn't dented the 25-year-old band's ability to unleash seven shades of death metal hell.
And if Dirges Of Elysium, the US outfit's ninth full-length is anything to go by, there's still plenty of life in the old dog yet. For the likes of Carrion Prophecy, Bastion Of A Plague Soul and the creepy, doomed-out From A Glaciate Womb show that McEntee remains true to his infernal vision.
This is death metal which lives up to the name, not just a collection of lightspeed riffs and identikit grunts. And while the album's slower passages can be a little, well, dirge-like, they're eclipsed by sonic firestorms like Dominant Ethos and Impalement Of Divinity.
A quarter of a century in the game, and there's still no stopping Incantation…RH
RUSHONROCK RATED: 7/10 In-Form

Abaddon Incarnate – Pessimist (Candlelight)
Genre: Extreme metal/Grindcore
Mixing up death, grind and crustpunk is all the rage these days, with the likes of Nails, All Pigs Must Die and a host of Southern Lord acts cutting a bloody swathe through the underground.
Dubliners Abaddon Incarnate might not be as hip as some of their US contemporaries, but that doesn't mean they're not a quality outfit… and Pessimist is worthy addition to their canon.
The quartet, who feature former Altar Of Plagues drummer Johnny King  in their ranks,  have spewed up an album full of bile and unrelenting, ferocious rage, with the likes of Warping The Necrospasm and Aborted Genesis cracking through your skull like a sledgehammer.
Abbadon Incarnate's fifth opus is admittedly a little samey – and its production, while suitably filthy, lacks the bite that would have given Bill Whelan and Steve Maher's  guitars extra clout.
However, if you're up for having your head caved in with 14 bursts of searing, crushing noise, you could do far worse than giving Pessimist a blast. RH
RUSHONROCK RATED: 6.5/10 Negative Thinking
Protafield – Nemesis (Caroline International)
Genre: Industrial/Rock
The brainchild of Welshman Jayce Lewis, Protafield is a technorock project that wouldn't have been out of place in the NIN-inspired industrial boom of the early 1990s. So bizarrely, for technology-inspired music, Nemesis can sound almost anachronistic in places.
However, if you'd like to hear what Gary Numan might have sounded like if he'd been brought up listening to Rammstein, you might want to give tracks like Wrath and the album's highlight, the stomping (and very danceable) Severe Sever, a try.
You can certainly imagine Sinner going down well on a cyberpunk dancefloor, while Make Believe shows a subtler side to Protafield… and Nemesis is superbly executed by Lewis and co throughout.
It's just that you get the feeling that we've been here before, and there are bands around, Reznor's among them, who can pull this music off with more panache. Interesting, but rarely inspiring. RH
RUSHONROCK RATED: 5.5/10 Lewis Carol

Deaf Havana – 22 EP (BMG/Chrysalis)
Genre: Alt Rock
Kicking off with the summery, feelgood radio edit of 22 it's clear Deaf Havana's ambition and progress knows no bounds.
There are few British bands who can channel such an Americanised radio rock-sound and still sound so credible but James Veck-Gilodi and co. do just that – and effortlessly so.
Stripped down set closer Whiskey is an evocative, thought-provoking country-flavoured ballad that, had it been written by Skynyrd, The Tedeschi Trucks Band or even Train, would have been a huge hit across the Pond. It could still be.
Just four tracks but four more reasons to make Deaf Havana your new guilty pleasure. SR
RUSHONROCK RATED: 8/10 Havana Bawl

Acacia Avenue – Cold (AOR Heaven)
Genre: Melodic Rock
Torben Enevoldsen's AOR-flavoured side project returns with another slew of top notch guest vocalists and a succession of sugary sweet melodies designed to make hearts melt and passions boil.
Love Will Survive – the first of two Rob Moratti-fronted tracks – is a luscious melodic rock moment as Final Frontier's accomplished vocalist dovetails with some seriously snazzy guitar work.
The Dare-alike It's Over adds Albin Ljunqvist to the mix as Acacia Avenue's celebration of all things soft rock reaches joyous heights. But for all the quality of Enevoldsen's hired hands it's his assured fret work that's the outstanding feature of a fantastic album.
Acacia Avenue's 2010 debut was a spine-tingling affair but Cold will send shivers down the spine of the stuffiest of critics. SR
RUSHONROCK RATED: 7/10 Cold Comfort

The Golden Grass – The Golden Grass (Svart Records)
Genre: Psychedelic/Progressive/Freakbeat
Taking their inspiration from bands like Cactus and The Move, Brooklyn's The Golden Grass have crafted a groovy collection of laid-back, spaced-out, throwback rock n roll that should go down a storm with bearded Scandinavians and pot-smoking home counties festival promoters alike.
But even the rest of us can find plenty to admire in the trio's entrancing mix of 60s/70s-inspired bluesy hard rock and lead single One More Time boasts a blinding riff that simply refuses to die.
The joyous jam session that is 13-minute rollercoaster Wheels allows The Golden Grass to go to town and they make the most of a glorious opportunity with some truly spellbinding musicianship and maverick artistry.
Breaking out of their native US is the next big challenge facing this thrilling three-piece but at least they leave armed with a debut of devastating promise. SR
RUSHONROCK RATED: 8/10 Grass-kicking
Genre: Alt Rock/Post Grunge/Indie
Fair play to Liverpool quartet The Arkanes – their pin-sharp debut ticks more boxes than a Luis Suarez rap sheet. But a band clearly aiming for the Kerrang!/NME crossover audience could be shooting themselves in the foot by bidding to be all things to all men.
Opener Onus and the angsty Sharpshooter showcase some of the freshest Brit rock since A and Hard-Fi but CommandxTurnxRevolt is more like a feeble attempt at a riff-lite Cast cover. Classic rock fans will enjoy some of W.A.R.'s feistier moments, indie kids will be drawn to the dreamy Vampyre and retro lovers can find much to admire in The Arkanes' bluesier compositions.
However, the question remains: who will love it all, all of the time? W.A.R. is just as likely to turn you off as it is to turn you on and the album's lack of consistency is its greatest weakness. Terracotta could be the best Oasis song Noel and Liam never wrote but it will grate with those Black Keys fans intrigues by set highlight Guilt Trip. Variety might be the spice of life but this is too much too soon from a bunch of ambitious unknowns. SR
RUSHONROCK RATED: 6/10 W.A.R. Story
Mastodon – Once More 'Round The Sun (Reprise)
Genre: Progressive Metal
It's easy to imagine a wry smile spreading across the faces of Brann Dailor and co. as the conversation moved towards exactly which tune should usher in the eagerly anticipated follow-up to globally acclaimed opus The Hunter.
Why not go with Tread Lightly? Apart from the fact that it's the least apt song title for a band of Mastodon's bludgeoning force and sense of supreme self-confidence. Never backwards in going forwards, the progressive metal machine are unlikely tip-toe their way around anything or anything but, inevitably, Once More 'Round The Sun's opener hardly lacks weight or substance. It is, in fact, the first of series of bona fide metal anthems for the post-Rush generation.
Whether it's Dailor's intro. on Motherload, Brent Hinds' breakneck riffage on High Road or Troy Sanders' signature rhythm across an album that's never less than extraordinary, there's so much to marvel at as OMRTS plots its complicated course.
Mastodon's various members must have wondered how they could top The Hunter. They haven't. This is a different beast nevertheless underpinned by the same attention to detail that's been this band's hallmark for the last decade. Compelling stuff. SR
RUSHONROCK RATED: 10/10 Mastodon It Again!

Linkin Park – The Hunting Party (Warner Bros)
Genre: Alt Rock/Nu Metal
Linkin Park have never been a band to rest on their laurels and take the easy option. Consequently The Hunting Party is a ferocious response to those who questioned the merits of 2012's rock-lite Living Things and it works an an absolute treat.
Just as the original nu-metal heroes appeared set to go all U2 and Chilli Peppers on the disbelieving masses it's back to the future for Mike Shinoda and his mates as the band blast through one of their heaviest sets since Hybrid Theory.
There's actual 'metal' on Guilty All The Same as a furious riff ushers in a typically anthemic chorus and old school LP fans will surely lap up one of The Hunting Party's finest moments (even Rakim's rap works well). Living Things was an incredible record of its type – just not an incredible Linkin Park record. And this is exactly that.
The Summoning is frightening in its mood and ambition and the juxtaposition with the thrashy/punky War is genius. Signing off with A Line In The Sand, Linkin Park have cracked it – again. SR
RUSHONROCK RATED: 9/10 Party On Dudes