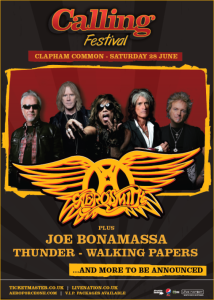 @London Clapham Common, June 28 2014
Game, set and smash to Clapham Calling headliners Aerosmith as they indulged  their fans with more aces than Andy Murray at his blistering best.
Ok, that's enough of the tennis analogies but when you're spending a fortnight in SW19 covering Wimbledon, it's an easy trap to fall into. 
And, in my defence, the comparison's pretty accurate too. The Boston rockers were just as impressive as Murray had been the previous night.
Taking advantage (is that another cheap tennis pun – Ed) of a few hours off, I headed to the festival, which has shifted from its Hyde Park home after the embarrassment of the plugs being pulled on Bruce Springsteen and Paul McCartney by the noise control fascists.
The same jobsworths may have been on duty over the weekend with Thunder – the first band I saw, having arrived too late to hear Richie Sambora and the rest of the undercard – were too underpowered for my liking.
Luke Morley's guitar sound was clear but the volume fell way short of 11 and while this at least guaranteed Danny Bowes' vocals came across superbly, that frisson of excitement a soaring sound system generates was missing.
Bowes is a fine singer but a little too pantomine-like as a frontman for my liking though it has to be said, the crowd responded well to his mass participation appeals.
Joe Bonamassa let's his guitar do most of his talking and when you're as good as him, why not?
Happily, the volume had cranked up by the time JB hit the stage and while time restricted him to just seven songs – including opener  Oh Beautiful from his forthcoming album – he will certainly have won converts from those watching him live for the first time.
And so to the headliners, who came on at just after 8.30pm and performed with the energy and panache of a band half their age.
Steve Tyler, looking remarkably like Johnny Depp's character in Pirates Of The Caribbean, has to be the finest frontman in rock music, posing, preening, pouting and powering his way through a setlist that had the multi-generational audience in the palm of his hand.
With a camera never more than a few feet away from him, Tyler's narcissistic tendencies were indulged throughout and of course it helps when girls, many young enough to be his err…grand-daughters, screamed at the singer and fellow Toxic Twin Joe Perry as if they were members of One Direction.
But that's the genius of Aerosmith. By dipping into their vast catalogue, they satisfied those of us who fell in love with the band during their Rocks and Toys In The Attic era playing songs such as Last Child, Rats In The Cellar and personal highlight No More, No More.
There were probably some who only got to know them through the soundtrack sensation Don't Want To Miss A Thing and, of course, the lighters came out for that one.
But Aerosmith's mix of power ballads, raunchy riffs and singalong anthems ensures they appeal to a cross-audience and all were satisfied.
And unlike his hilarious faux-pas at Download, Tyler hit no duff notes on his grand piano during a sensational encore of Dream On.
Ian Murtagh