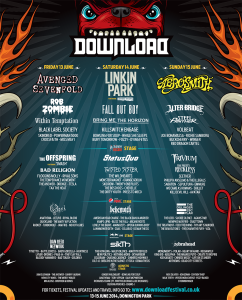 It's that time of the year when we turn the spotlight on the bands you simply can't afford to miss at this year's typically eclectic 2014 Download Festival.
As usual RUSHONROCK will be on site for the full three days bringing you the very best news and reviews from the UK's biggest and best rock and metal fest.
And to get you in the mood we'll be pointing you in the direction of the cream of the crop – with returning favourites Huntress next up. 
Band: Huntress
When: Friday June 13 18.50-19.15
Where: The Red Bull Studio Stage
Who: Doom laden retro metal crew fronted by the mysterious Jill Janus. Debuted at Download on the same stage last year and back by popular demand. Best mates with Lemmy and like listening to Black Sabbath with Janis Joplin on lead vocals.
Why: If different is good then Huntress are great. Janus is no gimmick with a classically trained voice and a haunting range.
Listen out for: I Want To Fuck You To Death from 2013's Starbound Beast.
Fact or fiction? Janus describes the Lemmy-penned I Want To Fuck You To Death as the most romantic love song ever written.
What we said: 'Eyeing up those starry eyed males gravitating towards the stage, [Janus] belted out I Want To Fuck You To Death (a song that features a Lemmy writing credit) with a glint in her eye. The general consensus appeared to be that there are worse ways to go.' Review from Download 2013 set.